Buy Your Car Online from Albany Subaru
How to buy your car online | Albany Subaru
Some of us have been shouting for a more streamlined approach to buying vehicles. At Albany Subaru, we hear you. We encourage you to complete as many, or all, steps of the car buying process online. We have invested in new technologies that allow you to do just that. This page will serve as a guide for you to learn how to complete the process right here on our website. We will have the car waiting for you to pick up, or deliver it right to you! Personalize your payment on New Subaru or high quality pre-owned vehicles.
Step 1 – Your Vehicle & Information
First things first. After you find which vehicle you like, click on the Personalize Payment button.

Then, type in the zip code in which your vehicle will be registered. This allows for accurate rebate and tax information to calculate.
Step 2 – Your Current Vehicle Trade Information
What's that you say? Not planning on trading in a vehicle? Skip to Step 3!
If you ARE trading a vehicle, we have made this process easy. We partnered with the best, KBB, to provide an estimate for your vehicle. Please try to be as accurate as possible in this step to get the most accurate valuation for your car.
Did you know that we are able to give MORE than KBB value for approximately 75% of our customer trade-in vehicles? That's right.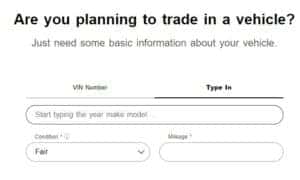 Step 3 – Pre-Qualify For The Best Rate
Our pre-qualification process does not require a social security number and it will not have any impact on your credit score. Simply fill out your basic information and the tool will show you the best rate given our network of lenders. We have great relationships with local and national banks to make sure our customers get the best possible rate. Whether you are leasing or financing your vehicle, know that you are in good hands with our finance professionals.
Step 4 – Review Your Payment & Add Accessories
Here you will see the complete payment structure and compare lease, finance, and cash deals. You can adjust your term and down payment with ease. And, if you qualify for rebates, this is where you can read about and select them. Feel free to shop all the amazing Genuine Subaru Accessories that will make your ride uniquely yours here, as well.
Step 5 – Schedule A Test Drive, Upload Documents, Schedule Delivery
Wow! That was easy. And it feels good to get all that done on your own time, doesn't it? Now you can upload your license and insurance to keep things moving. If you would like to drive your vehicle before taking it home, you can schedule that appointment here. If you know you want the car, you can schedule your delivery time here, too.
One of the great things about buying your car online from Albany Subaru is that our team is just a message away. If you have any questions or concerns while working through the process of buying your car, simply send us a message on the right side and we will get right back with you to help! You will also notice how much time your are saving at the dealership using our handy-dandy tracker on the left.