The 2021 Subaru Love Promise Customer Commitment Award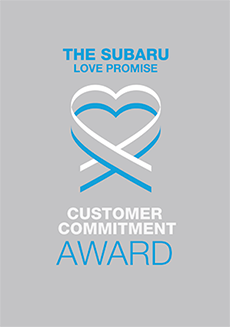 We've been nationally recognized for our dedication to our customers and the Subaru Love Promise.
We're honored to receive the 2021 Subaru Love Promise Customer Commitment Award. This award nationally recognizes Subaru retailers who demonstrate excellence in all areas of customer-focused performance. It highlights exceptional customer service that builds lifelong relationships with Subaru owners.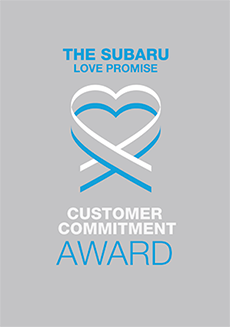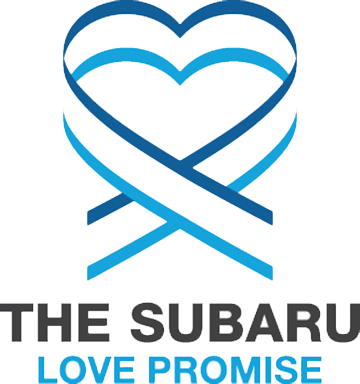 What is the Subaru Love Promise?
Subaru and our retailers believe in making the world a better place and the Subaru Love Promise is our vision of respecting all people. This is our commitment to show love and respect to our customers and to work to make a positive impact in the world.
How is Albany Subaru dedicated locally to the Love Promise?
Our Love Promise can be seen in various partnerships with local charities, schools and non-profits. We're grateful for the opportunity, not only to be a part of our community, but to serve it as well. We are the Marque sponsor of the Solano Avenue Stroll for our neighborhood, and for our Home Town Charity, Albany Subaru honors the Cancer Care ITA Nurse team of Stanford Health, true warriors of good and grace.
Albany High Mountain Bike Team
Albany Senior Center, Solano Stroll sponsor, Albany Citizen of the Year 2012
Stanford Hospital Cancer Center ITA Nurse Team
Love Promise Stories from Albany Subaru
Subaru and Albany Subaru believe in making a positive impact on the communities in which we live and work. We uphold that belief through our Love Promise Community Commitment. Every month, we select inspiring stories from customers and partners from around our area who strive to support our collective commitment and feature them here
2020 Share The Love Donation - Joy M
We are really excited to continue to partner with Albany Subaru who chooses to donate their Subaru Share the Love funds to the nurses at the Infusion Center at Stanford Cancer Center ITA that cares for stage III & IV cancer patients. Despite the ongoing pandemic, they were able to raise almost $90K to the nurses who are able to use the funds to pursue educational opportunities, wellness seminars and team building exercises.
---
Blankets & sanitizer donated to those in need - Camellia F
Albany Subaru recently donated 60 blankets and a case of sanitizing wipes to the Berkeley Food and Housing Project who provides emergency food and shelter, transitional housing, rapid rehousing and permanent supportive housing with support services to individuals and families experiencing homelessness.
---
Over 20 shelter pets adopted at Albany Subaru! - Blythe L
On October 20th 2019, at the 5th annual Subaru Loves Pets Pet adoption Event at Albany Subaru. Albany Subaru has always been great partner in the event, and have been really accommodating in allowing us to have puppies and kittens all over their showroom for the day. On the day of the event, we had customers waiting over an hour before the event even started, and we ended up finding homes for over 20 cats and dogs! Partnering with Albany Subaru has always been great! And we are more than excited with this year's results! Very much looking forward to our next event!
---
Albany Subaru Loves Pet's annual adoption day - Blythe L
On October 20th Albany Subaru had its annual free pet adoption day in concert with our shelter, Animal Refuge Response. Animal Refuge Response is a no kill shelter, committed to finding lovings homes for 100% of its animals. On this Saturday at the dealership, over a dozen prospective parents were lined up in front of our dealership waiting for us to open. 30 minutes after opening, 6 pets were adopted and we ended the day finding homes for 17 dogs and 3 cats, 20 in all! In addition, Albany Subaru donated over $10,000.00 to our shelter partner for needed supplies and medical treatments for their animals in need. Blythe, the shelter founder called later and told us she was able to home an additional 6 pets through followup, great news! For your enjoyment , we have included a picture of a particularly happy new pet parent. The little girl pictured was one of the early visitors to our store---she picked out her puppy but had to go home to get permission from her mother---3 hours later we see her running down the sidewalk and into the showroom, and, her puppy was there waiting for her, tail a wagging! If you missed this year's event , never fear, we will be back next year and who knows....maybe we go for 35+ adoptions in 2020!
---
Alta Bates - Subaru Loves to Care - Alexa A
On Tuesday, August 13, The Leukemia & Lymphoma Society campaign manager Greg Bedard joined several staff members from Alta Bates, including Luanne Ridgley, to begin the distribution of blankets to patients suffering from cancer at Alta Bates in Berkeley, California. Dozens of blankets have now been made available for patients by Albany Subaru, which has partnered with LLS and its East Bay Light The Night campaign as part of the Subaru "loves to care" program.Staff escorted Mr. Bedard around the oncology wing of the hospital and shared some of their experiences working at one of the largest hospitals in the Bay Area. Alta Bates will make the stylish blue and white blankets available to patients as needed during the summer and fall.East Bay Light The Night is held annually in Walnut Creek at Civic Park. This year's event will commence on the evening of Saturday, October 12, with registration at 5:00 p.m. and the event ceremony, including "Circle of Survivors", beginning at 7:00 p.m. Approximately 2,500 members of the East Bay community will show their support for those who have struggled with blood cancer, culminating in a walk with lanterns around downtown Walnut Creek.For more information about the walk, please go to: https://www.lightthenight.org/events/east-bay
---
LLS & Albany Subaru Blanket Delivery to Alta Bates - Megan M
On July 26th, the Leukemia & Lymphoma Society's (LLS) Greater Bay Area Chapter teamed up with Albany Subaru to deliver blankets, arts and craft kits, and dozens of message of hope cards written by the caring customers of Albany Subaru to Alta Bates. The display in the Albany Subaru lobby was incredible and probably one of the best displays of the blankets and cards we've seen. It was right by the front door and readily available for customers to see and to write their message of hope cards. Our contact at Albany Subaru, Jason, clearly spent time and put a lot of care into the display and this partnership. He told us about other ways that the dealership is involved in the community, and it is so wonderful to see a business giving back so much! Once we arrived at Alta Bates, we were greeted by our contact Bev and so many more doctors, nurses, and staff members. They were all thrilled to be receiving this generous donation again from Albany Subaru, especially since last year the blankets were gone in a matter of days due to the amount of patients they treat each and every day. Thank you to Albany Subaru for making a difference!
---
Blankets for cancer patients from Albany Subaru - Fran I
Thank you to Albany Subaru for teaming up with the Leukemia & Lymphoma Society's Greater Bay Area Chapter to help cancer patients! On July 26, LLS and Subaru staff met up at the Alta Bates Comprehensive Cancer Center in Berkeley to deliver 80 blankets, 10 arts & craft kits, and dozens of amazing messages of hope for patients going through treatment at the center. At the delivery, we were greeted by over a dozen excited nurses, social workers, and hospital staff – they were thrilled to be receiving these wonderful items! The nurses were especially touched by the many thoughtful messages of hope written by Albany Subaru customers, and the art kits were brought to the social work unit to help patients as they go through the emotional struggles of cancer treatment. We are so grateful to Albany Subaru for caring about cancer patients in the local community!
---
Albany Subaru Loves the Earth & Butterflies! - John N
As part of the Subaru Love Promise - Subaru Loves the Earth Event, Albany Subaru partnered with the National Wildlife Foundation for the Butterfly Heroes Program to raise awareness and education on the declining population of the monarch butterflies. Creating a monarch and pollinator habitat is a wonderful opportunity for observing one of nature's most miraculous occurrences and the planter displayed on the showroom, that also happens to be a Certified Wildlife Habitat, connects our community of gardeners and kids, families, and schools alike to help the monarchs and other pollinators. The planter will be donated to Ocean View Elementary School after the event. Witnessing the unique transformation of the monarch butterfly is wonderfully intriguing for students and teachers alike.
---
$1,500 raised for Albany High Mountain Biking Team - Patricia L
Every year Albany Subaru partners with the Albany High School Mountain Biking Team to raise money at the Solano Avenue Stroll. This year was no exception - $1,500 was raised and we're very thankful for their continual support!
---
Albany Subaru at the annual Solano Avenue Stroll - Allen C
Every year Albany Subaru participates in the family-oriented Solano Avenue Stroll with a full vehicle lineup display and a fundraiser for the Albany High School Mountain Biking Team. A 2016 Subaru Forester made its way down the parade while back at the booth, there were various Subaru giveaways and a raffle for a $200 fuel card.
---
Albany Subaru Loves Pets - Blythe L
For the month of October, Albany Subaru donated $150 for every new Subaru sold to Animal Refugee Response, a local no-kill animal shelter, and owner John Nakamura presented the $10,000 check along with a Subaru Outback full of pet food and supplies!
---
Pet Adoption Day at Albany Subaru - Blythe L
Albany Subaru partnered with Animal Refugee Response, a local no-kill animal shelter, and organized a pet adoption day at the dealership. It was a very successful event - a total of 18 cats and dogs were adopted and found loving homes through the event.
---
Albany Subaru Adopts a Classroom - Terry G
As part of the Subaru Love Promise - Subaru Loves Learning initiative, Albany Subaru has gifted Ms. Sprenger and Mr. Pederson at Ocean View Elementary School $500 each to purchase various school supplies for the children.
---
$20,000 donated to the Wong Family Fund - Caitlin N
Albany Subaru donated a total of $20,000 to The Wong Family Fund at the Stanford University Cancer Center benefiting nurses in the infusion treatment area. The total amount raised came from $150 per new Subaru sold at Albany Subaru for the month of March, as well as a dollar-per-dollar match from owner John Nakamura. The creator of the fund is Kevin Wong, childhood best friend of John, who passed away recently from cancer. The fund was set up to allow nurses to further their education in the field they choose to pursue.
---
Albany Subaru at the Arts & Green Festival - Paul R
This would mark the third year of Albany Subaru's participation in the Arts & Green Festival in Albany. The event was hosted at Albany High School just blocks away from the dealership. The day was packed with various performances, booths & vendors, food trucks and activities for kids, making it the perfect family event. Albany Subaru had their latest 2015 XV Crosstrek Hybrid Limited on display along with an E-Waste Collection box as part of the recycling event, bringing awareness to the importance of properly disposing and recycling of old electronics and devices.
---
Albany Subaru at EcoFest Sustainability Festival - Charles N
Albany Subaru was one of the participants at the Peralta Community College District's 9th annual EcoFest Sustainability Festival at Laney College in Oakland. The focus this year is on sustainability & the environment, and this would mark the second year of Albany Subaru's participation. They showcased the environmentally friendly Subaru XV Crosstrek Hybrid - the most fuel efficient All-wheel Drive Hybrid Crossover on the market. Students were very excited to learn that you could have a vehicle that's both very capable and environmentally responsible.
---
Subaru Loves the Earth E-Waste Recycling Event - Jason T
For the Subaru Loves the Earth E-Waste Recycling Event, Albany Subaru placed a collection box in the showroom to collect old electronics like TVs, computers & monitors. The event was publicized through social media and word-of-mouth and we were able to collect a full box of E-Waste which could have ended up in a landfill and polluting the environment. Albany Subaru is a strong supporter of proper disposal of waste as seen by the various recycling, compost and waste bins throughout the dealership.
---
Albany Subaru raises $35,000 for BORP - Rick S
Albany Subaru selected Bay Area Outreach and Recreation Program (BORP) as their hometown charity in the Share the Love program and raised almost $25,000. On top of that, Albany Subaru donated an additional $10,000 which made the total contribution $35,000! We were honored to be chosen as Albany Subaru's local charity this past December and are extremely grateful for their hard work and generosity!
---
John honored by California Legislature Assembly - John N
Owner of Albany Subaru John Nakamura, Albany Chamber Citizen of the Year, received a Certificate of Recognition from the California Legislature Assembly in honor of his exemplary Practice of Citizenship and Service to the Community through various charitable events and donations.
---
Albany Subaru at the Annual Solano Avenue Stroll - Allen C
The annual Solano Avenue Stroll is one of the largest one day family oriented local street fair in the area, which attracts over 200,000 people that raises funds for the Solano Avenue Business Association. Albany Subaru's participation helps promote local merchants and small businesses, as well as raising funds for our partners like the Albany High School Mountain Bike Team and the Albany Senior Center.
---
Albany Subaru Plants A Tree For Every Subaru Sold - Jason T
Albany Subaru encourages their customers to plant a tree as part of Subaru's "Love Spring Event".
---
Thank you for your support over the years! - Patricia L
We are happy to have partnered with Albany Subaru for our annual fundraiser at the Solano Avenue Stroll since 2007.Thank you for your continued support! We look forward to many years to come!
---
Albany Subaru supports Bay Area Outreach and Recreation Program (BORP) - Rick S
We are very proud that Albany Subaru has selected us as one of their hometown charities for the Subaru Share the Love Event! The launch party was fantastic and we hope to reach our fundraising goal of $20,000!
---