Genuine Subaru Parts Can Help Keep Your Ride on the Road in Albany, CA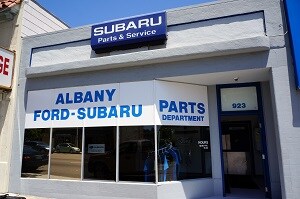 Keeping your pre-owned or new Subaru on the road so it can deliver fun all-terrain drivability is important, and there is no better way to do this than with genuine Subaru parts and accessories.
Here at Albany Subaru we provide all the car parts you need to keep your all-terrain companion healthy and hungry for more miles on and off the road.  Thanks to our extensive inventory of parts and accessories everyone from San Francisco, Oakland and all the way to Walnut Creek can have the pieces to repair or just customize their Subaru car.
Subaru models always separate themselves on the road due to their performance and style, and it is common for drivers to put their own awesome twist on their Subaru to show it off and have more fun.
With the experts in our service center you can have your Subaru your way, complete with performance boosted parts and flashy accessories.  In addition, thanks to our constantly changing list of parts specials you can save cash when outfitting your Subaru model.
If you want to stand out in the greater San Francisco Bay region or simply remain in drive on the roads of Oakland, Berkeley and Walnut Creek, then Albany Subaru is your one stop shop.  Pay us a visit or contact us here anytime to check out how we can make your model fit your personality and needs.