Albany Subaru Sponsors the 2019 Solano Avenue Stroll 

Since 1974 Solano Avenue and the twin-cities of Albany and Berkeley CA, have hosted the
Solano Avenue Stroll
, the East Bay's largest street festival! The Solano Avenue Association invites you to see what makes Solano Avenue a wonderful place. We feature over five hundred vendors including 50 entertainers, 50 food booths, 150 government and non-profit agencies, 150 juried hand-crafters, a 75 entry parade, state of the art mechanical rides and much more!
(Parade begins at 10am)
What: A one mile stroll along Solano Ave. full of Entertainers, Crafters, and delicious Foods and Drinks

How to get there:  Free shuttles run 10AM - 7PM from the North Berkeley BART
 station to Marin Avenue which runs parallel, one block South of Solano Avenue. The shuttle runs up and down Marin and stops at the intersections with traffic signals until Masonic / the BART tracks ++ (new for 2017). Wait times average from 20 to 30 minutes. Shuttles are wheelchair accessible and are provided courtesy of the event sponsors. ++Stops in Berkeley include: The Alameda and Colusa / Stops in Albany are: Peralta; Santa Fe and Masonic - along Marin. (It used to run to San Pablo Avenue.)
Bike - Ride your bike and enjoy free valet parking
at two locations on Solano Avenue, Wells Fargo Bank (1800 Solano) on the east [Berkeley] end, and by Albany Arts Gallery (1245 Solano) on west Solano Avenue.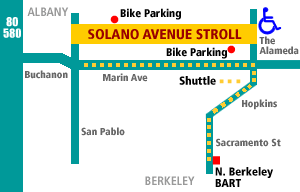 When: Sunday, September 8th, 2019 - From 10am - 5pm
    The Parade begins at 10am

Cost: FREE!!